Right now, there is no shortage of graphs and data vizualizations ranging from actuals vs. models, to the US compared to other countries, predictions, and much much more.
Many of those are about getting a high-level picture of "what's happening", and they're an important part of the analysis.
In addition to that, it's also important to disaggregate the data, as often there's important information that gets obfuscated in the rollup.  In doing so, it's important to consider the facet by which you choose to do so.
For example, at one level, it's important to disaggregate NYC's data by borough, given that the five boroughs are often a proxy for a collection of other attributes.  As you can see, you get a different picture of the severity of the issue when you do so.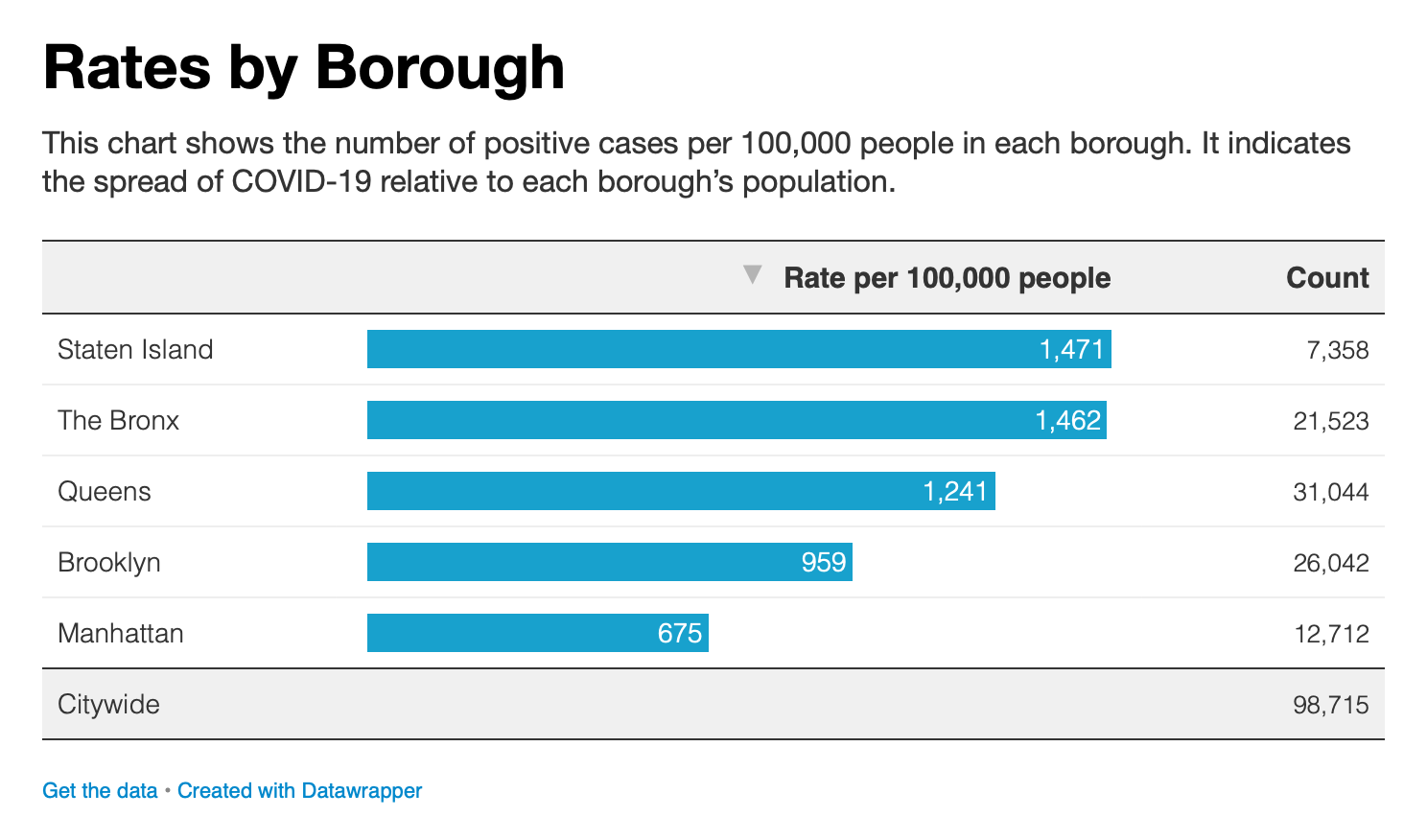 Zooming in at neighborhood level is even more illuminating, especially given that income disparities vary quite a bit at a borough level, and no surprise, those in poorer neighborhoods are much harder hit.  They make up the majority of "essential workers", either in health care, infrastructure, food prep and delivery, etc., vs. those who have jobs that are conducive to working remotely.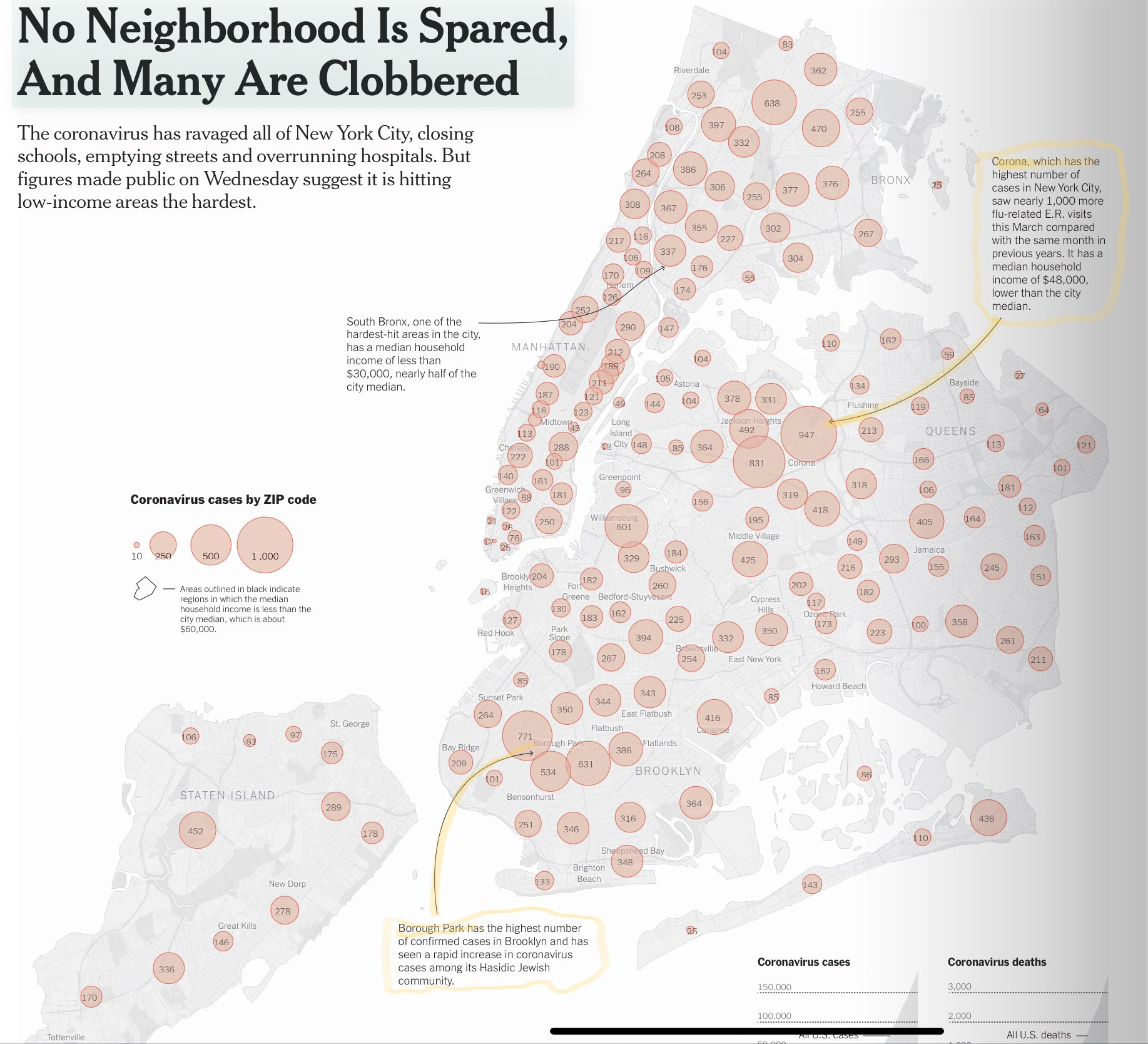 It's always worthwhile to disaggregate based on race and ethnicity, too, because (no surprise) systemic institutional racism is a thing, which shows that Black and Latino residents are disproportionately affected:
There's a good framing of the issues presented by this data here, and more data from different states here in this APM Research Lab report.
But it's also important to consider and look at the qualitative data:
And, in terms of getting a sense of what life is like in the boroughs, for healthcare workers in particular, here are a collection of stories by the NY Times, NPR and CNN on both the experience in local hospitals as well as outcomes for their citizens:
So, what's the point of looking at all this?
First, I think we can all agree that the virus isn't racist and isn't making choices about who it is or isn't going after, because that's just silly.
Through the disproportionate impact we see disparities across race, ethnicity and neighborhoods, we're really just seeing an up-to-date/real-time reflection of the unjust society in which we live: the structure and systems of our society, which informs who has access to what opportunities vs. who is or isn't overburdened with unfair circumstances.
It's the ultimate data visualization on the state of the city, if not the country.
And while our collective attention is focused on our current priorities of how we stop the virus, flatten the curve, deliver aid to local communities, and not destroy the economy, once we get clear of the short-term emergency, I hope we'll put just as much time and attention into understanding how the norms and dominant systems we accept today contribute to (if not exacerbate) a life of precarity for many, which in turn makes the whole system weaker of everyone.
Is what we accept as "just is" necessary to begin with, or can we dare to dream something completely different?
For starters, Francis Tseng has been maintaining a Twitter thread of things that have been disallowed but are entirely feasible, his point being that we have the capability to make changes that benefit everyone, but we lack the political will and incentives to do so:
For a much more concrete narrative demonstrating the abstract concepts I've been talking about, this thread by David Dennis, Jr., lays it out much more effectively: